Automatic HTOL RF Test Systems
---
High Temperature Operating Life - Systems for Lifetime Prediction of Electronic Components
---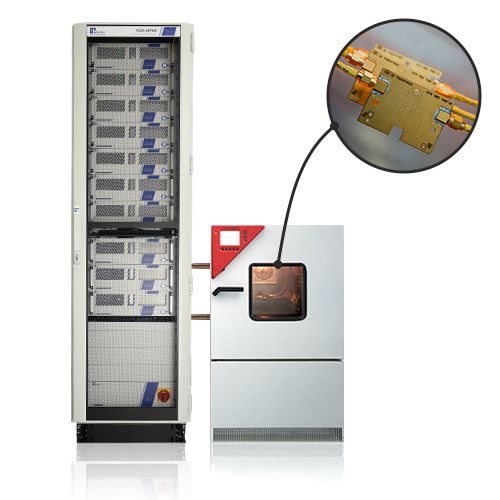 ---
Becker Nachrichtentechnik GmbH offers industry leading turnkey solutions for fully automatic HTOL RF testing. The integrated test racks run complete test cycles using multiple RF frequencies without operator intervention. All devices under test (DUT) are exposed to a high-power, individually controlled, precise RF signal. The system continuously monitors the insertion loss of all DUTs in parallel and gives a transparent real-time progress status to the operator. This includes a system integrity status and statistical analysis of eventual violations of a predefined DUT tolerance specification. An integrated webserver allows the configuration and control of the system without any software development effort at the customer side.
Becker Nachrichtentechnik GmbH prides itself for a high-quality modular design concept that also allows to customize the HTOL RF test systems according to specific customer requirements.
---

---
HTOL tests (High Temperature Operating Life) are an important element of reliability testing of microelectronic components like surface acoustic wave filter (SAW, BAW, FBAR, XBAR), low-temperature cofired ceramics filters (LTCC). Other target DUTs (devices under test) are diplexers, quadplexers and even complete front-end components (RFFE). These tests subject large batches of DUTs to RF stress at absolute maximum ratings and additionally to a high temperature of typically 125° C. The RF stress signals must be very precise and long term stable (1000 h and more) in order to create reliable statistics of the components' life time. Devices under test that die from the stress during the HTOL test must not have any influence to neighboring devices in the same test setup. Test systems from Becker Nachrichtentechnik GmbH have been designed specifically for this application and guarantee high isolation between stress signals and highly precise output levels with no overshoot.
---
TSQA-80PMF
Fully Automatic 80 Channel HTOL RF Test System
1700 ... 9800 MHz 19", 42 U up to 5 W RF power Guided Webinterface
TSQA-1X8PMF
Fully Automatic 8 Channel HTOL RF Sub System
1700 ... 9800 MHz up to 5 W RF power 19", 3 U Guided Webinterface
---
TSQA-80PME
Fully Automatic 80 Channel HTOL RF Test System
300 ... 6000 MHz 19", 42 U up to 10 W RF power Guided Webinterface
TSQA-1X8PME
Fully Automatic 8 Channel HTOL RF Sub System
300 ... 6000 MHz up to 10 W RF power 19", 3 U Guided Webinterface
---
TSQA-1X80PM
Fully Automatic 80 Channel HTOL RF Test System 20 ... 3000 MHz
up to 2.5 W RF power 19", 43 U 20 ... 3000 MHz
TSQA-1X16PM
Fully Automatic 16 Channel HTOL RF Test System
up to 2.5 W RF power 19", 15 U 20 ... 3000 MHz
---
TSQA-80XME
Fully Automatic 80 Channel HTOL RF Test System
300 ... 6000 MHz 19", 15 U up to 0.5 W RF power
---
Latest modification: 26.04.2023