Becker Nachrichtentechnik GmbH
---
We have shown that with aid of innovation spirit and courage crises can be overcome. Becker Nachrichtentechnik develops and produces modules, devices and systems in the frequency range up to 20 Gigahertz. Fields of applications are wideband signal distributions, radio broadcasting, mobile commnunication and air traffic control. In the course of the financial crises 2008/09 Becker Nachrichtentechnik realign to a new strategic. Additional to the services, a own innovative product spectrum has been developed. The courage was successful: today Becker Nachrichtentechnik belongs to the few companies that offers prototypes and also series products in high quality to satisfy our custumers.
We, Becker Nachrichtentechnik GmbH, have shown how crises can be mastered with innovative spirit and courage. Assemblies, devices and systems are developed and produced in the frequency range up to 18 GHz – for example for signal distribution, radio, mobile communications and aeronautical radio.
In the course of the 2008/09 financial crisis, Becker Nachrichtentechnik GmbH managed to strategically realign itself: Away from being a pure developer and towards becoming a system supplier with its own range of products. "Giving up was out of the question, so we put our heads together and looked for an alternative." says founder and managing director Martin Becker resolutely.
Whether in the past or today: the entrepreneurial spirit and the willingness to establish new business ideas characterize our company, which was founded in 1996. The most important prerequisite for successful action has been there for a long time: the know-how. Both his and that of the 20 employees. According to Martin Becker, the recipe for success also includes idealism, a willingness to take risks and perseverance. The courage paid off: Becker Nachrichtentechnik is now one of the few companies that can offer prototypes in the high-frequency range and also convince customers with products that are ready for series production.
---
---
The
award

for

Germany's

most innovative

SMEs
Since 1993, compamedia has been awarding the TOP 100 seal of approval to SMEs with a particular ability to innovate and above-average success rates for innovations. This project has been coordinated by Professor Nikolaus Franke from the Institute of Entrepreneurship and Innovation at the Vienna University of Economics and Business since 2002.
The TOP 100 is mentored by science journalist and television presenter Ranga Yogeshwar and organised in partnership with the Fraunhofer Society for the Promotion of Applied Research and the German Association for Small and Medium-Sized Businesses (BVMW). manager magazin provides media support for the company benchmarking competition.
---
Innovative trough Research
We are proud about us awarded Seal of Quality " Innovative through Research" from Stifteverband for the German science. For nearly 100 years the Stifteverband is one of the pillars of science promotion in Germany.
The Stifterverband is one of the largest private science sponsors in Germany. In addition to his commitment to young academics, excellent universities and cutting-edge research, it is also his task to examine and evaluate the German research and innovation system. How much does business invest in research and development in Germany? What effects does this have on the future viability of this country? These questions are the focus of the R&D survey, which the science statistics in the Stifterverband carries out annually on behalf of the Federal Ministry of Education and Research.

Translated from source: https://www.stifterverband.org/forschungssiegel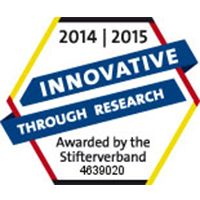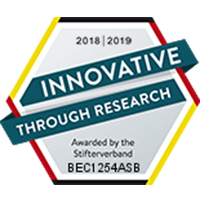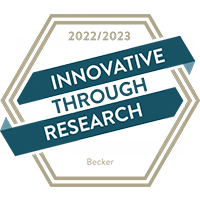 ---
In order to be able to guarantee the highest quality standards in the long term, we work in accordance with the ISO 9001 quality management standard. Every employee in our company contributes to compliance with our quality goals with a high sense of duty and responsible action. Our suppliers are carefully selected and support us in the best possible way in the manufacture of high-quality products in terms of the environment. Our most important suppliers have also agreed in writing to the guidelines of our code of conduct.
---
Latest modification: 01.08.2023