Becker Nachrichtentechnik GmbH
---
We have shown that with aid of innovation spirit and courage crises can be overcome. Becker Nachrichtentechnik develops and produces modules, devices and systems in the frequency range up to 8.5 Gigahertz. Fields of applications are wideband signal distributions, radio broadcasting, mobile commnunication and air traffic control. In the course of the financial crises 2008/09 Becker Nachrichtentechnik realign to a new strategic. Additional to the services, a own innovative product spectrum has been developed. The courage was successful: today Becker Nachrichtentechnik belongs to the few companies that offers prototypes and also series products in high quality to satisfy our custumers.
---
---
The
award

for

Germany's

most innovative

SMEs
Since 1993, compamedia has been awarding the TOP 100 seal of approval to SMEs with a particular ability to innovate and above-average success rates for innovations. This project has been coordinated by Professor Nikolaus Franke from the Institute of Entrepreneurship and Innovation at the Vienna University of Economics and Business since 2002.
The TOP 100 is mentored by science journalist and television presenter Ranga Yogeshwar and organised in partnership with the Fraunhofer Society for the Promotion of Applied Research and the German Association for Small and Medium-Sized Businesses (BVMW). manager magazin provides media support for the company benchmarking competition.
---
---
Innovative trough Research
We are proud about us awarded Seal of Quality " Innovative through Research" from Stifteverband for the German science. For nearly 100 years the Stifteverband is one of the pillars of science promotion in Germany.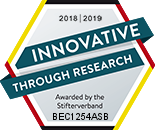 ---
Latest modification: 11.01.2021