HTOL- High Temperature Operating Life
Quality and robustness requirements to electronic components especially deployed in automotive and wireless applications are constantly increasing. At the same time technical progress and market requirements evolve at an unprecedented pace. JEDEC JESD22-A108 defined a standardized stress test to simulate the aging of components under operating conditions, called HTOL (High Temperature Operating Lifetime) testing.
While components are exposed to a high temperature accelerating aging processes, the devices are also exposed to high power RF input signals reflecting maximum rating conditions. HTOL testing applied to a stastically relevant number of devices over a significant period of time (e.g. 80 components over 1000h) reveals potential failure modes to improve component design and validates robustness before release to market. Example products tested with Becker Nachrichtentechnik GmbH HTOL RF test systems are SAW filters and antenna switches used in mobile communication devices.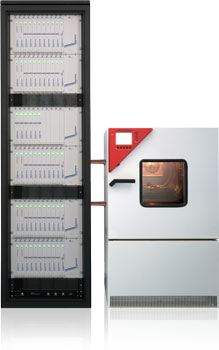 ---
Becker Nachrichtentechnik GmbH offers industry leading turnkey solutions for fully automatic HTOL RF testing. The integrated test racks run complete test cycles using multiple RF frequencies without operator intervention. All devices under test (DUT) are exposed to a high-power, individually controlled, precise RF signal. The system continuously monitors the insertion loss of all DUTs in parallel and gives a transparent real-time progress status to the operator. This includes a system integrity status and statistical analysis of eventual violations of a predefined DUT tolerance specification. An integrated webserver allows the configuration and control of the system without any software development effort at the customer side.
Becker Nachrichtentechnik GmbH prides itself for a high-quality modular design concept that also allows to customize the HTOL RF test systems according to specific customer requirements.
---
Latest modification: 27.03.2018